My masseuse pulled my toe and it popped. I winced, particularly averse to cracking joints. "OK?" he queried, noticing my reaction. Responding in a truly British fashion, I lied and told him I was fine. He continued pulling the rest of my toes. Twisting the middle of my foot, there was another almighty crack and I jumped in a combination of surprise and pain. The masseuse just chuckled quietly to himself. Over the next hour my body was poked, prodded and contorted into all manner of bizarre positions. This culminated in me being twisted backwards across my masseuse's legs as my spine audibly crunched. Wat Pho's famous massage school seemed like a good option for our first experience of Thai massage.  It was certainly an unusual experience, if not quite what we expected.
We were led to one of the massage pavilions, a cool, quiet hall that gave some respite from the baking heat outside. Dozens of people lay in orderly rows on top of raised platforms, each at a different stage of the massage process. They were attended by an army of masseuses, who silently kneaded and manipulated the limbs of their victims.  The dimly lit hall was full of people but as we passed between the platforms, we became aware of how eerily quiet it was.
Preparing For My Thai Massage
At the back of the hall, we were each handed a neatly folded pair of Thai fisherman's trousers and directed to a small wooden changing cubicle. I pulled on the comically large, one size fits nobody trousers, dragged the waistband tight and secured it with a large knot. With my new trousers, and bare feet, I followed my masseuse to an unoccupied mat. Lying back and relaxing, I really had no idea what I had let myself in for.
My masseuse began by digging his fingers into my skin, targeting pressure points as he methodically worked his way around my feet and lower legs. They were the sharpest fingers of any masseuse I've encountered.  It was quite enjoyable at first but he soon found the tense, painful areas and worked them very enthusiastically.
The prodding was interspersed with a hearty cracking of joints and I flinched each and every time.  He also stretched out my muscles by pulling my arms and legs into weird positions.  Luckily, I was flexible enough for that part to be reasonably comfortable.
It wasn't a relaxing experience, and unlike some others I certainly wasn't snoozing by the end of it.  Though by the time we were outside, slurping the chilled mulberry tea we'd been handed afterwards, I did start to feel the benefits.  Or did I just feel good because the pain had stopped?
University Teachings At Wat Pho
What Is Thai Massage?
Thai massage is not the typical relaxing massage you may expect to receive at a spa.  There is no rubbing and no oil.  You will also remain fully clothed, unless you find somewhere offering the special extra services that Thailand is famous for.  Thai massage concentrates on stimulating pressure points as well as pulling and cracking joints.  There is also an element of 'assisted yoga', where your body is stretched for you.
Why Wat Pho?
The Thai Traditional Medical School at Wat Pho was Thailand's first university.  It is still a well respected school and is particularly famous for Thai massage.  It is a reliable place to get an authentic massage from a well trained professional.  Around the temple, you can see anatomical diagrams adorning the walls.  These were part of the teachings from the early university.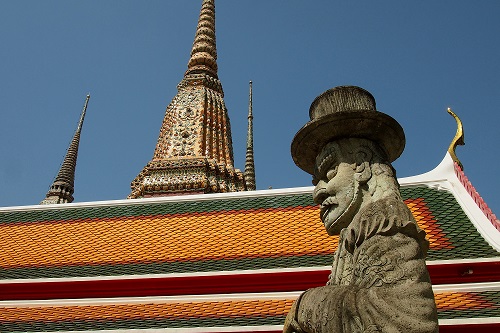 The Giant At Wat Pho
Wat Pho Thai Massage Tips
Wat Pho Thai Traditional Massage School is located within Wat Pho temple complex. You will have to pay the temple entrance fee to gain access to the massage school. There is of course an additional charge for a massage.
The massage school at Wat Pho is very popular. You may have to wait some time for the next available masseuse. Once we had paid for our massages, we were given a number and told to come back in 40 minutes. We used the time to look around the temple.
For a full body massage, you will be given a loose pair of trousers to put on.  Wear loose comfortable clothing on your top half as you will keep this on throughout your massage.