Exhausted, overheating and with hefty rucksacks on our backs, we tramped along Khaosan Road.  We had just arrived in Bangkok, it was nearly midnight and all we could think about was finding our guesthouse and getting some sleep.  The vendors on Khaosan Road, however, had other ideas.
The street was thronging with drunken tourists.  Badly sung karaoke clashed with pop music blaring from the bars that lined the road.  People indulged in Thai massages, downed cheap cocktails and took selfies with the fried bugs they were about to consume.  And we were assaulted from all sides with offers, fliers and promises of a good time.
Edible Bugs in Bangkok
Scorpions on skewers were waved under our noses, along with laughing gas and booze sold by the bucket.  Then there were the ping pong shows.  Naively thinking that ping pong shows were a unique idea, we were surprised to be handed a comprehensive menu of similarly themed options.  We'd just arrived and so far Bangkok was living up to its reputation.
How Long Should You Spend In Bangkok?
"Bangkok is a dirty, smelly place.  Don't spend more than 3 or 4 days there."  That was the advice a knowledgeable friend gave us before we visited Thailand.  We dutifully ignored him and we're glad we did.  In our opinion, Bangkok was neither dirty nor smelly, although some areas were not quite our scene.
Most visitors to Bangkok just spend a few days seeing the Grand Palace and a handful of iconic temples.  Some may have a brief foray into Chinatown.  We were certain the city would have more to offer.
Chinatown
Bangkok's Chinatown
Arriving in Chinatown, we expected to find a colourful Chinese-style gate.  Instead, we walked into a narrow alleyway covered with rusty tin roofs and canvas awnings.  It turned out to be Sampeng market, which sold all the usual fare: textiles, t-shirts, toiletries.  It also seemed to go on forever.  We did eventually find the rest of Chinatown though, and the ubiquitous Chinese-style gate we were hoping for.
There were more interesting alleyways in Chinatown too.  We saw huge eels and bowls full of sea cucumbers at a fishmonger and passed sacks brimming with blue pea and camomile.  One shop was filled with golden boats, folded from paper like Chinese origami and seemingly their only product.
Dim Sum
Chinatown's main thoroughfare was particularly crowded.  There were neon signs everywhere and jewellery outlets that looked more like casinos than shops.  They were interspersed with restaurants, nearly all of which had well-stocked fish tanks and dishes like shark fin soup on the menu.  It took some effort but we managed to find a shark-free restaurant where we indulged in dim sum.
Markets in Bangkok
In other areas of Bangkok, we found more markets.  Our favourite was Khlong Toei, a fresh produce market.  We could have bought live ducks or crabs, pig's faces or chicken's feet.  There were net bags stuffed full of frogs, trays of water beetles and catfish heads so fresh they were still wriggling.  In the end though, all we actually bought was some fruit.
Catfish
Flower markets were common in Bangkok and we even found a whole market dedicated to amulets.  We wandered up and down the alleys amazed by the variety of charms available.  There were Buddhas carved onto tiny stone tablets, lucky stars and extensive collections of phalluses, apparently worn for protection and luck.
Amulet Market
Flower Market
Patpong: One Of Bangkok's Many Red Light Districts
One evening we wandered through the market in Patpong, one of Bangkok's infamous red light districts.  It was surprisingly family orientated with young children playing by the stalls.  On neighbouring streets we saw a lot of empty bars and clubs.  The ladyboys that worked there were dressed up to the nines just mooching around with nothing to do.  The gay bars, however, were clearly the place to be, each packed full with crowded tables spilling out onto the street.
Most unusual was the street catering to Japanese businessmen.  Rows of girls, many in costume, sat on display outside each of the hostess bars.  School girls, maids and tennis players waited patiently while their madames conducted negotiations.  The men subtly admired from a distance, all except one who bent over each girl in turn to examine her in detail.  Some of the girls played the part, giggling and waving at their potential customers but most just looked bored.
Lumphini Park
The Lizards Of Lumphini Park
Just a few minutes from Patpong, we took a walk in Lumphini Park, home to a healthy population of Asian water monitors.  Within minutes, we spotted one sauntering confidently across the grass.  It didn't seem to care that we were there and walked right past us.
Heading towards the lake, we began to see more lizards.  A couple were swimming, perfectly streamlined with their tails rhythmically whipping back and forth.  Some idly lounged on the shore, soaking up the sun.  Others were a little more energetic, stomping around, their tongues regularly flicking out to taste the air.
Lumphini's Lizard Population
In 2016, the lizard population in Lumphini Park was booming and some of them were over 3 metres long.  People were scared of the bigger lizards and they occasionally caused accidents when wandering across the cycle paths.  Many were caught and relocated to a wildlife sanctuary.  However, the park officers do keep some lizards around for the tourists. There were certainly plenty to see when we were there.
Lizard By The Lake
Although fairly peaceful during the day, in the evening Lumphini Park could not have been more different.  A constant stream of people flooded in, joining the solid wall of runners following a circuit around the park.  Trying to cross their path, or do anything other than going with the flow, was challenging to say the least.
Muay Thai
Watching Muay Thai In Bangkok
Bangkok is a great place to watch Thailand's national sport, Muay Thai.  On Christmas day, we joined the crowds at Rajadamnern Stadium for a fight night.
Muay Thai Fight Night
With much ceremony, some prayers and a ritual bath, each match began.  Knees and elbows flew, bones crunched and more than one person struggled to drag themselves out of the ring afterwards.  The atmosphere grew and after a few rounds the crowd were going wild, all on their feet, shouting along with every strike.
There was, however, a bit of an anti-climax as the main event was not the last fight of the evening.  Most of the spectators left after the 7th bout avoiding the last few rounds fought by amateurs and high school kids.
The Home Of Thai Massage
We had our first, and last, Thai massage while we were in Bangkok.  The Thai Traditional Medical School at Wat Pho is well known for offering good quality, professional massages so we decided that would be the place to go.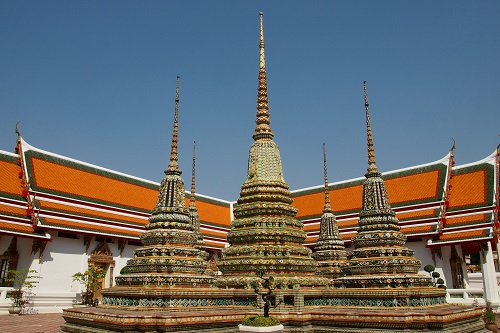 Wat Pho
Lying on mats in a busy but surprisingly quiet hall, our pressure points were poked and prodded.  Our muscles were stretched and our joints were pulled and cracked with enthusiasm.  It's fair to say it wasn't the most relaxing massage we've had but we did feel good afterwards.
Street Food in Bangkok
Like many other places in Thailand, the street food in Bangkok was delicious.  Pork skewers, mussel omelettes and mango sticky rice were street food staples.  We also discovered our new favourite Thai food, pork knuckle soup, huge hunks of slow-cooked pork in a rich, cinnamon-spiced broth.
Pork Knuckle Soup
Cooking street food is not always the safest endeavour though.  Near Khlong Toei market, we saw a ball of flames erupt from a grilled meat stall.  Unsure how to handle the fire, the vendor picked up his grill and waved it around, succeeding only in fanning the flames.  He came dangerously close to igniting the umbrella that covered his stall too.  Thankfully the umbrella didn't catch fire and the flames were finally extinguished.
Noodles At A Street Stall
Despite its reputation, we thought Bangkok was a clean, modern city.  Everybody talks about the Grand Palace, the temples and the chaos of Khaosan Road but, as we discovered, the city has a lot more to offer.