Walking through the towering Jurassic Park style gates, we were confronted with an overwhelming scene, an explosion of colour akin to stepping into a kaleidoscope. Gigantic birds, their wings carpeted in flowers, stood proudly among the trees, which dripped with red and purple petunias. Golden sunflowers surrounded a herd of giraffes, each unique and sprouting dozens of flowers. An army of ants marched single file across the lawn transporting yet more petunias, under the command of a stern looking General. And all of this paled into insignificance next to the gigantic floral teddy bear that towered over everything. This was just our first view of Dubai Miracle Garden, a small taste of the rainbow of extravagance to come.
Herd of Giraffes
Why Dubai Miracle Garden Is Amazing
There are around 100 million flowers at Dubai Miracle Garden.  Keeping all these plants alive and blooming in the hot, dry desert climate is no easy task. It takes 757,000 litres of recycled waste water per day.
Some Of The Animals At Dubai Miracle Garden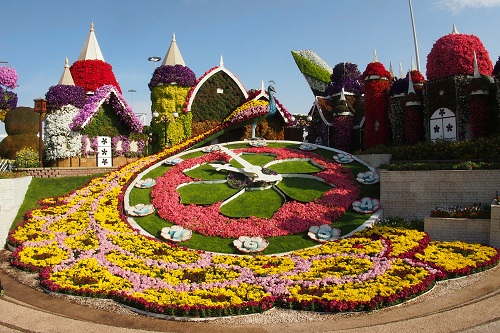 Peacock Clock
Avenue of Swans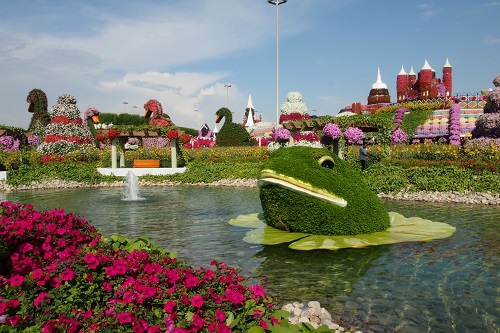 Frog Pond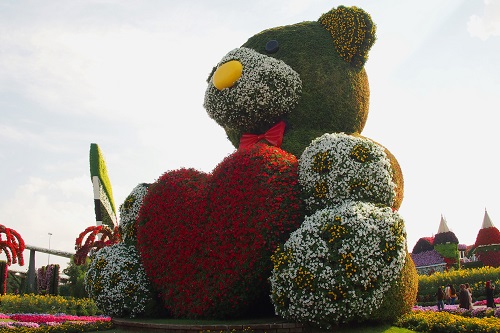 Watch Out For Bears
Emirates A380, A World Record
Dubai Miracle Garden holds a Guinness World Record for their life-size A380 aircraft.  It's the largest floral sculpture in the world.  Although not as colourful as the rest of the garden, it's still a very impressive sight.
Rest Areas
We took a break in the shade at one of the many rest areas and watched a photo shoot.  These photogenic gardens are a prime place for Instagram fodder.  We watched with amusement as people produced colourful props, changed their clothes and struck ridiculous poses all in the name of social media.  However, climbing onto a wall was a step too far and it didn't take long for a security guard to appear.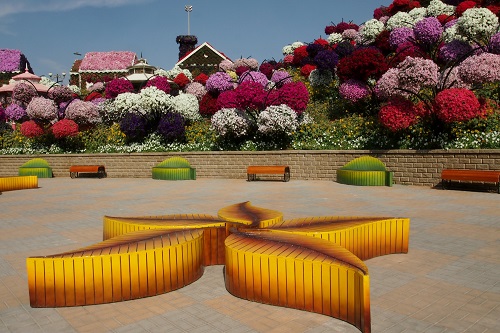 Created in a remote suburb of Dubai, somewhere between the barren desert and a construction site, we think the Miracle Garden is one of Dubai's hidden treasures. Although smaller than many of the ambitious development projects in Dubai, this garden is impressive in its own right. Keeping so many flowers alive in the desert is quite a feat. Dubai Miracle Garden is a delightfully bizarre if somewhat psychedelic experience and wildly different from the usual garden concept.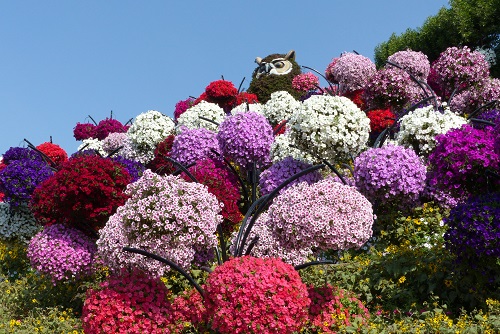 Dubai Miracle Garden Travel Tips
You can get a bus to Dubai Miracle Garden.  Take bus 105 from the Mall of the Emirates metro station.  Alternatively, take a taxi.
The Miracle Garden is only open for half the year, roughly November to May. Check their website for the exact dates before you visit.
There are lots of food and drink kiosks inside the Miracle Garden complex, however no food or drinks from outside are allowed. There are also plenty of rest areas and seats scattered throughout the garden.