When we started planning our trip to Dubai, everyone raved about how great it was. They all mentioned extensive shopping malls, beautiful beachfront resorts and the Burj Khalifa, the world's tallest building. Alas, designer shops don't go well with budget travel and since we can get sunburned on a cloudy day in Scotland, beaches were off the list too. Pinning all our hopes on the Burj Khalifa, we were worried we might get bored. We soon discovered however there are many things about Dubai that nobody told us.
Downtown Dubai
The glistening spire of the Burj Khalifa stands out against the other elegant skyscrapers that define the skyline of Dubai. From the viewing platform on the 125th floor, we had unparalleled views across the metropolis to the desert beyond. Dubai is a long, narrow city sandwiched between the Persian Gulf and a vast expanse of desert. Seeing the extent of the city was quite spectacular, though being so high up is rather disconcerting if you are not a fan of heights.
Even though we weren't shopping, we still found plenty to do at the Dubai Mall next door. A massive shark tank, a real dinosaur skeleton (Diplodocus) and dazzling dancing fountains were just a few of the attractions that kept us entertained.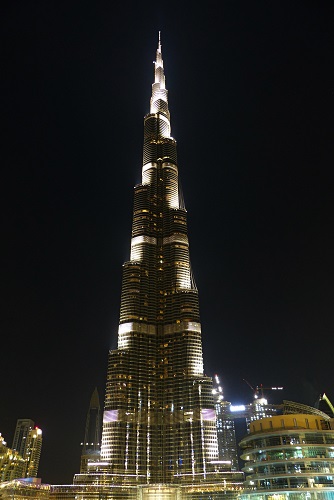 Burj Khalifa
Although every inch of Downtown Dubai looks pristine and futuristic, we noticed the engineering is not quite as perfect as it seems. After a short burst of heavy rain, large puddles started appearing on the floor of the mall.  This was swiftly followed by teams of mop wielding cleaners. Several roads also flooded and we saw some unusual antics from drivers unfamiliar with rain. We later heard there were over 500 road accidents as a result of this short downpour.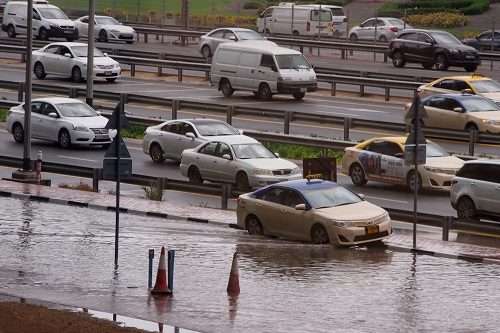 Driving In The Rain
Jumeirah Coast
The Palm Jumeirah is one of several ambitious land reclamation projects that have been conceived in Dubai. Instead of reclaiming the usual square of land, the designers based their plan on a palm tree. Several narrow fronds extend from a central trunk, which is rooted to the mainland. Put simply, the Palm looks like something a teenager would dream up to maximise the amount of waterfront property in a game of SimCity.
We felt rather out of place taking a walk in this perfectly manufactured utopia. The gated entrance to each frond was carefully guarded ensuring only residents had access to these private estates. The trunk was a mixture of high-end hotels and luxury apartments surrounding a carefully manicured park. We half expected to be arrested by a team of security robots in a hovering car for being some sort of anomaly that wasn't permitted in this perfect world.
The Palm Jumeirah
Two other palm projects were planned in Dubai though these have never been completed. Even more ambitious is 'The World', an archipelago of 300 artificial islands arranged to look like a world map. These new islands were earmarked for luxury resorts and private island retreats. Celebrities and entrepreneurs have purchased some of the islands but very few have been developed.
Deira, the Old Commercial Centre of Dubai
Crossing the creek, we found that Deira is surprisingly different from the ultra-modern downtown area. This district feels like it has evolved naturally over the years rather than being manufactured in a single generation. The famous gold souk was simply a collection of modern jewellery shops.  It took some effort to dodge the hawkers outside with their collections of knock off handbags and cheap watches. The nearby spice souk in contrast was a more traditional affair. The narrow alleyways were packed with tiny shops overflowing with sacks of fragrant saffron, cinnamon sticks and dried citrus fruit. We ran the gauntlet of merchants employing traditional Arabic sales strategies, hoping to pester passersby into making a purchase.  Managing to resist temptation, we escaped unscathed.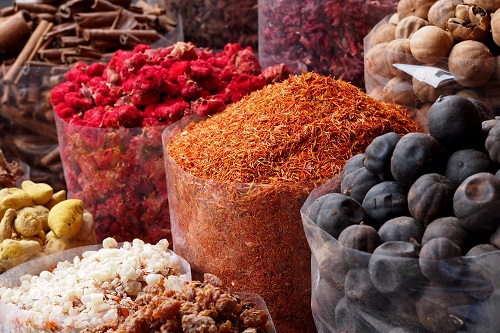 Deira Spice Souk
The rapid and ambitious developments that make Dubai so unique must have required great vision and imagination. It's particularly impressive that this has been achieved in such an inhospitable desert environment. Sadly the financial crisis of 2008 derailed several large projects, including the three palms and The World. A decade later, with cranes and construction sites all over the city, Dubai is still growing at an amazing rate. Despite the shiny glass and steel that characterises the newer parts of the city, some areas of Dubai still reflect the colourful Arabic culture that shaped this desert city.
Dubai Travel Tips
The metro and tram network is a fast and economical way to get across the city. Bear in mind that both start operating later on Friday mornings than on other days. The network is quite limited however so it may be better to take a taxi in some cases.
The metro system ticket machines only give a maximum of 20 dirham change. Make sure you have small change to hand.
Official taxis in Dubai are metered so there is no need to haggle over the price. You can check the rates online.