A constant stream of worshippers made their way up the stone stairs to the split gate that marked the entrance to the temple. The men wore white headbands. The women sported sashes and carried huge woven baskets on their heads. Everyone had a brightly coloured sarong wrapped around their waist. Even the statues lining the steps were wearing headbands. This was the entrance to Pura Penataran Agung, the central, and best known, of the 23 temples that make up Pura Besakih, Bali's mother temple.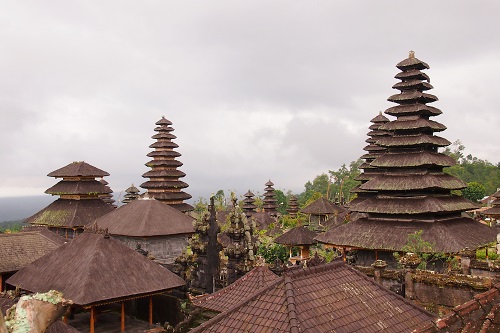 As Bali's number one temple, you would think it would be the top of most visitors' itineraries. Pura Besakih's reputation has been tarnished however by a small number of locals keen to profit by ripping off tourists. The temple is now better known as Bali's number one tourist trap but in our experience, many of the pitfalls can be avoided.
In the Shadow of Mount Agung
Besakih Temple stands on the slopes of Mount Agung, the highest volcano in Bali. The Balinese believe Mount Agung is a copy of Mount Meru, the centre of the Hindu universe. It is therefore revered as Bali's most sacred mountain and is the perfect site for the mother temple, Pura Besakih. Lava flows from the massive eruption of Mount Agung in 1963 narrowly missed the temple complex. This is regarded as a miracle and a sign that the gods approve of Pura Besakih. Seismic activity around this very active volcano is carefully monitored and experts believe the next eruption is imminent.
Read about our adventures climbing one of Bali's volcanoes in the dark.
The Main Temples at Pura Besakih
Worshippers walking up through the complex follow a spiritual path towards the holier temples closer to the summit. Some of the temples are dedicated to specific gods of the Hindu pantheon represented by both their position and the colour of their decorations.
North: Pura Batu Madeg is dedicated to Vishnu (black banners)
South: Pura Kiduling Kreteg is dedicated to Brahma (red banners)
East: Pura Gelap is dedicated to Iswara (white banners)
West: Pura Ulun Kulkul is dedicated to Mahadeva (yellow banners)
In the centre of the complex is Pura Penataran Agung, dedicated to Shiva.
This layout mirrors that of Canang Sari, the daily offerings that you will find all over Bali.
Read about Canang Sari and other more sinister Balinese offerings.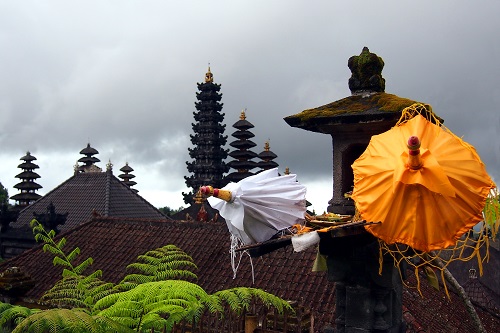 Is Bali's Mother Temple the Mother Of All Rip Offs?
We were apprehensive about our visit to Bali's mother temple. Although we knew it would be an amazing place, it is also a notorious tourist trap. We had read stories of criminal gangs extorting exorbitant 'donations', compulsory guides demanding outrageous tips and sarong vendors charging vastly inflated prices. Based on what we had read online, we were worried that our visit to the temple was going to cost somewhere around £50, much more than we were willing to spend. Despite our concerns, we were pleasantly surprised by our experience.
How Much Does a Visit to Pura Besakih Cost?
We paid the nominal 5,000 rupiah parking fee and parked next to a row of sarong shops. We knew we would need a sarong to enter the complex. The shopkeeper started negotiations with a price of 200,000 rupiah for one sarong. After a couple of minutes of haggling, she had reduced the price to 50,000 rupiah each. This is a little more than you might pay elsewhere but for the sake of saving 50 pence, we didn't waste time haggling further.
We paid the official entry fee of 60,000 rupiah at the ticket office. "I'll be your guide today" declared a local man stepping out to accompany us. A fairly direct, "No you won't" was enough to melt his enthusiasm and that of the other potential guides hanging around.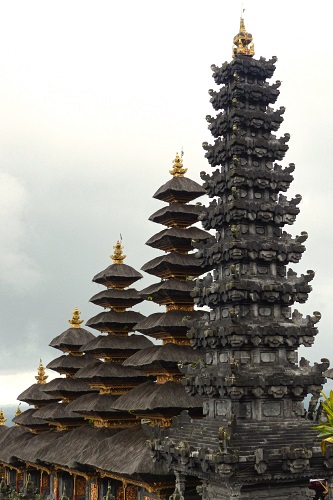 The road up to the main temple was lined with shops and cafes but many were closed, with the shutters down. Those that were open were manned by extremely bored looking staff who didn't speak to us at all. Young boys on motorbikes offered us a ride up the hill but we politely declined their offer.
As we climbed the steps to the main temple complex, a well dressed man greeted us and told us there was a very special ceremony at the temple that day. We knew from the stories we'd read that such statements are invariably followed up by a request for a hefty donation. With this in mind we quickly thanked him for the information and kept walking before he had a chance to say anything else.
We passed a ticket checkpoint and entered the main part of the temple. After this we were approached by only a handful of people, some children, selling postcards and other trinkets. Polite refusal was enough to discourage them.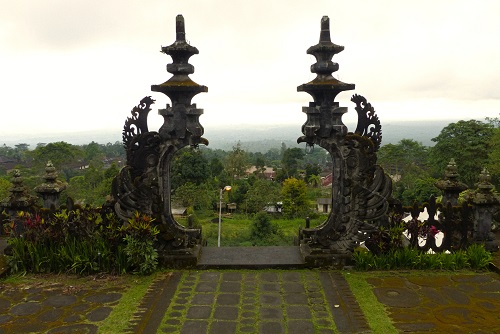 The Total Cost of Our Visit to Besakih Temple
Parking: 5,000 rupiah
Sarong: 50,000 rupiah
Entry: 60,000 rupiah
Total Cost: 115,000 rupiah (approx. £6.50)
Pura Besakih Travel Tips
Under new regulations brought in around April 2017, a free rental sarong and the services of a guide should be included in the cost of your ticket. The guides expect generous tips so bear this in mind if accepting their assistance.
Whilst a free rental sarong should be included, we didn't see any evidence of this. Bring your own sarong if you have one.
The people trying to extort donations or sell things tended to stick to a specific patch. Just walking away was very effective.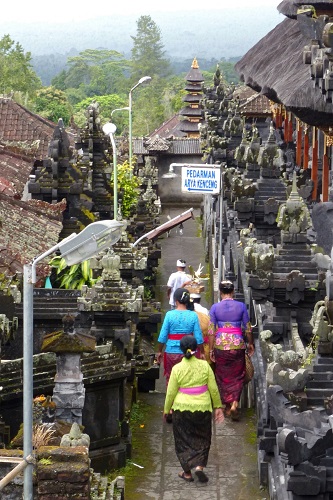 How to Get to Pura Besakih
Public transport to Pura Besakih is limited. There are 3 other options:
1. Drive yourself.
2. Take a taxi. Your taxi driver will wait in the car park while you're inside the temple.
3. Join a tour. This will usually include stops at other temples, rice terraces or craft shops.