Escaping the chaos of the main street, with its tacky souvenir shops, crowded cafes and taxi traffic jam, we weaved through a restaurant and out onto the steps behind. The silence enveloped us as we stood in awe of the view. Golden rice terraces stretched the length of the valley, as far as the eye could see. Palm trees sprouted from the slopes laden with fat coconuts and a network of tiny paths snaked between the narrow paddies. Tegalalang rice terrace is the most famous in Bali. With that fame however, comes a tourist circus that can tarnish the experience. We decided to find out if Campuhan Ridge Walk was a better option.
The Main Cash Crop At Tegalalang Rice Terrace
We descended into the valley and crossed the crystal-clear stream at the bottom. A string of tat pedlars were waiting for us. Some women sat quietly with small displays of postcards laid out in front of them. Another was topless, which may have been the norm in Bali 70 years ago but she definitely wasn't that old. She grabbed our legs on the way past, perhaps hoping we would feel compelled to buy something. We managed to resist.
Finally, we came across a man dressed like a stereotypical rice farmer complete with a conical straw hat. He accosted passing tourists, placing his hat on their head and handing them a bamboo yoke with baskets hanging from each end.  When they looked the part, he would encourage them to pose for photos by the rice paddies, all for a fee of course.
Golden Rice At Tegalalang
Donation Checkpoints At Tegalalang Rice Terrace
Having run the gauntlet of salesmen, we then reached a small wooden shed. This was our first checkpoint. While there was not a specific fee, we were expected to give a donation, supposedly a contribution to the upkeep of the paths and bridges. We left a couple of small notes and continued on our way, zigzagging uphill through the rice terraces.
Our First Checkpoint At Tegalalang
It wasn't long until we reached our second checkpoint. There we overheard a couple arguing with the staff. They had already given donations at several other checkpoints and thought it was unfair to have to donate again. At this particular checkpoint, there was a definite minimum donation of 10,000 rupiah. Whilst it is not a lot of money, when you have to donate more every few hundred metres, it quickly adds up.  We snapped a few more photos and headed back to meet our taxi driver.
Walking Along Campuhan Ridge
Campuhan Ridge Walk
Back in Ubud, we set off along the Campuhan Ridge Walk.  We followed the path along a grassy ridge between two densely forested river valleys.  Clearly a well-known scenic spot, we passed a professional photo shoot along the way.  Butterflies flitted around us and the odd Balinese skink scuttled across the path, the bright yellow stripes on their sides catching our attention as they ran by.  Reaching the shade of a few trees, we also saw plantain squirrels performing some daring acrobatics as they leapt between the branches.
Rice Terraces At Campuhan
Campuhan Rice Terraces
We passed a couple of guesthouses and tiny shops selling local artwork before we reached the rice terraces at Campuhan.  A small stone shrine sat in each field, most decorated with yellow fabric and dedicated to Sri, the goddess of rice.  Decorative bamboo contraptions spun and clattered loudly in the breeze.  Along with streamers, kites and wooden rattles, these are used to keep birds away from the precious rice crop.  However, watching several little birds feasting among the rice plants, we concluded that these devices weren't very effective.
Feeling hot and thirsty, we took a break at an open-air cafe.  We relaxed in the shade slurping juice from fresh green coconuts as we gazed out across the rice paddies.  Fully refreshed we explored the rice fields a little further before making our way back across the ridge.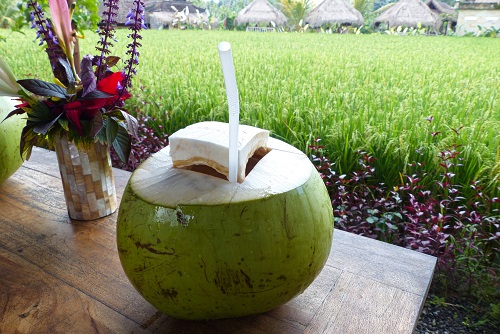 Refreshing Coconut Drink
Tegalalang Or Campuhan?
Tegalalang rice terrace features on many postcards in Bali with good reason.  It certainly offers a spectacular view.  For that reason alone, we do think it's worth visiting Tegalalang.  Overtourism has spoiled the experience though.  The shops and cafes overlooking the rice terrace are overpriced and overcrowded.  Even a walk on the rice terrace is marred by hawkers and the excessive number of donation checkpoints.
In contrast, Campuhan Ridge Walk is a much more relaxing experience but it does require more walking.  We enjoyed the wildlife and wildflowers along the route.  The rice terraces, while not as dramatic as Tegalalang, were much larger and every bit as spectacular.  We also saw very few people and even the cafe where we stopped for a drink was peaceful.
Dragonfly at Campuhan
Tegalalang Rice Terrace Travel Tips
If you decide to walk around the rice terraces at Tegalalang be prepared to give frequent donations. Some of the checkpoints will accept 5,000 rupiah per person but others will ask for at least 10,000 rupiah. They won't give change so have some small notes to hand.
Despite the trees, there is not a lot of shade on the rice terraces. The sun can get very intense so be prepared.
There are a lot of cafes and restaurants with great views over Tegalalang rice terrace. If you don't want to walk down into the valley, enjoy a cold drink and a good view instead.
We tried Bali's infamous shit coffee at Tegalalang. Read more about our coffee tasting experience.
Tegalalang Rice Terrace
How To Get To Tegalalang Rice Terrace
1. The easiest way to get to Tegalalang is by taxi. It takes around 15 minutes from central Ubud. It's not expensive to arrange for your taxi driver to wait for you while you're there. Unless you plan to eat lunch there or peruse the souvenirs at length, you'll probably find an hour will be long enough to see the rice terrace.
2. Hire a scooter and ride to Tegalalang yourself. This could take a while though.
3. Take a public bemo directly from the centre of Ubud to Tegalalang rice terrace.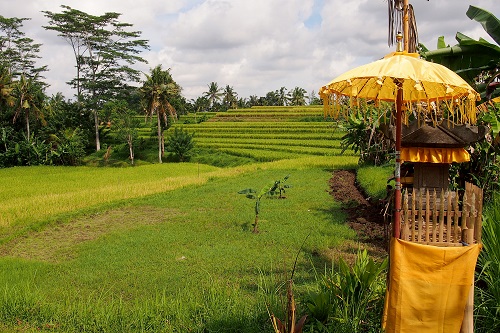 Shrine At Campuhan
How To Get To Campuhan Ridge Walk
The start of Campuhan Ridge Walk is around 1km from central Ubud.
1. Follow Jalan Raya Ubud towards Penestanan village.
2. Turn right at the sign for Warwick Ibah Luxury Villas.
3. Before you reach the villas, take the first left and head downhill to the bridge.
4. Instead of crossing the bridge, go down the steps beside the bridge.  This path will lead you straight on to the Campuhan Ridge Walk.
It is only around 2km along the ridge and through the rice paddies.  If you want to avoid too much time walking on busy roads, return by the same route.