Notting Hill Carnival: parade, party and all round celebration of Caribbean culture. We'd seen pictures. We'd heard stories. And we still weren't quite sure what to expect.
Arriving at the parade, we joined the sea of people stretching as far as the eye could see. The giants really stood out. Towering over everyone, they marched down the road, dressed all in black with shiny silver googles. Drummers followed them, tapping out a steady rhythm, similarly attired minus the stilts. A bronze cart adorned with cogs transported even more drums, and complemented the steampunk theme.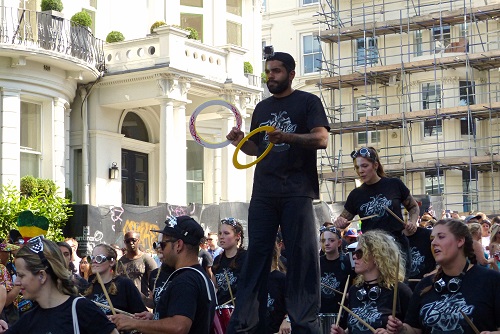 Steampunk Drummers
They were followed by a constant procession of brass bands, school bands and a steel band beating out a lively tune that had the crowds tapping their feet. There were costumes too and lots of feathers. Some had wings, others sported peacock-style tails. Yet more women strutted past with electric blue feathers sprouting from their heads like pineapples. In stark contrast to the festive cheer however, many wore 'Green for Grenfell' t-shirts in memory of the tragedy.
Steel Band
Escaping The Notting Hill Carnival Parade
The parade at Notting Hill Carnival follows a 3.5 mile loop through the streets of London. Turning down a side street was like walking into the eye of a storm. The crowds disappeared and an air of calm enveloped us. As we wandered past perfect white houses, all boarded up for the occasion, a sweet smoky scent caught our attention. Succulent jerk chicken, freshly barbecued at the roadside was exactly what we needed.
Jerk Chicken
Getting back to the parade was more of a challenge. A live band played and the audience filled the street from wall to wall, swaying, clapping or sipping rum punch from pineapples. There were no boarded up houses here and local residents leaned out of their windows or danced on their balconies.
Partying At Notting Hill Carnival Parade
Finally squeezing through the throngs, we began to hear dance music pumping and soon found the source. A DJ was rocking out on the back of a truck, which crawled along with an army of revellers partying behind. Some people danced in swimsuits while others waved flags, a symbol of their Caribbean heritage. And nearly everyone was splattered with paint.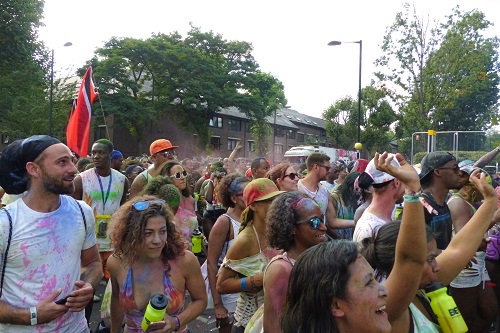 Covered In Paint
A colourful party bus passed us, blasting out clouds of pink and green powder paint. On another float, a man was armed with a multi-barrelled paint gun. He sneaked around trying to catch people unaware, a cheeky smile crossing his face every time he fired. There were people on the ground flicking paint around too. None of us escaped unscathed.
The Spectacular Parade Costumes
Next came the dinosaurs.  Small green lizards with razor-sharp teeth were closely followed by garish pink and yellow reptiles.  Further on, a cosmic display of brightly coloured planets and stars paraded past with a young child at the centre of each elaborate costume.
Dinosaurs
Although we expected to see some impressive costumes at Notting Hill Carnival, the sheer size of the event took us by surprise.  We saw thousands take part in the parade and even more spectating from the sidelines.  Everyone was having fun and despite visiting on family day, there was plenty of paint and partying for adults too.
When Is Notting Hill Carnival?
Notting Hill Carnival takes place on the August bank holiday weekend.  This is usually the last weekend in August.
Sunday is family day.  It is less busy, and less crazy, than the Monday.  Although we visited on the Sunday, it was still fairly intense.
Planets
Notting Hill Carnival Tips
Notting Hill Carnival is very busy so getting around takes longer than expected.  Allow plenty of time and wear comfortable shoes.
Expect to get splattered with paint.  Don't wear your Sunday best.
There are lots of stalls selling Caribbean food and drinks.  However, there is not always a vendor around when you need one.  Bring plenty of water with you.
There is very little shelter available so check the weather forecast before you go.  Be prepared with sunscreen or a raincoat.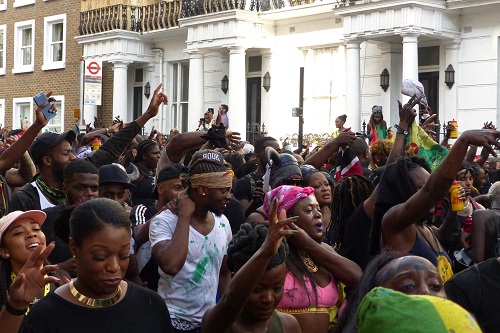 The DJ's Party
How To Get To Notting Hill Carnival
Take a train or bus to Notting Hill but bear in mind that the usual services will be disrupted by the event.  Some train stations around the carnival area will be closed, others will be exit only.  Buses may be re-routed and will not pass through the parade area.
Get a train or bus as near as you can and walk from there.  Bayswater or Paddington train stations will be open.  Alternatively, take a bus on route 2 or route 36.
For more information, Time Out publishes a travel guide for Notting Hill Carnival.