There are few things better than a steaming cup of Gluhwein to warm your hands and heart on a cold day. It's one of the reasons we love to walk around a Christmas market and soak up the festive cheer. Originally a German tradition, Christmas markets have now spread across Europe.  We ventured to Manchester Christmas Market to see how British efforts compared to the German classics.
We started our Christmas adventure in front of the town hall. The whole area had been transformed into a quaint wooden village filled with Christmas themed stalls. Looking up, we saw a gigantic orange-faced Santa staring down at us. Dressed in his Santa suit, Zippy, the famous puppet, has become the Manchester Christmas Market mascot.
Chocolate Stall
Food And Drink At Manchester Christmas Market
The smells of fresh wood and warm winter food blended together in the chilly winter air as we perused the tightly packed stalls. A team of cooks in full Bavarian regalia, complete with quirky felt hats, tended hundreds of sizzling bratwurst on a huge griddle. We couldn't resist the temptation.  There were also appropriately costumed Spaniards peddling paella and convincing Dutch cheesemongers.  Above it all, a huge animatronic reindeer regaled the hordes with Christmas carols.
Many Varieties Of Salami
As we weaved between the market stalls, we were plied with free samples. A cube of curry cheese here and a slice of wild boar salami there helped to see us through the inevitable sales pitches. One salesman confidently declared that his Peruvian coffee had been grown above 3000 metres. He didn't feel any need to explain why this was important and we didn't ask. Thankfully, someone else at the stall was more impressed by this revelation and quickly snapped up a sizeable bag of beans.
After exploring various pockets of market action, it was time to stop for a hot drink. We settled on a scalding cup of spicy ginger punch, served in a quirky souvenir cup.  It was the perfect festive treat on such a cold day.  According to our friends, the hot chocolate with a shot of Baileys was also a winner.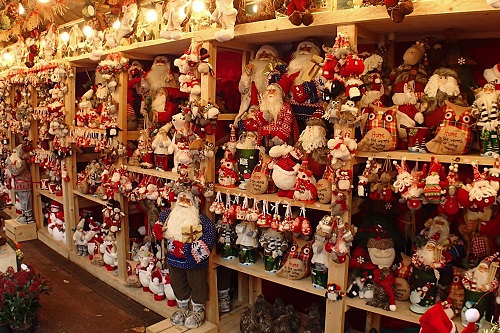 The Perfect Christmas Gift?
There were plenty of stalls crammed with Christmas paraphernalia and all sorts of gifts. Rows upon rows of decorative Santas, snowmen and stockings lined the walls and all looked spectacular en masse. The decorative bird feeders stuffed with nuts and seeds looked like the perfect gift.  The half-eaten example we came across a few weeks later however, was far less impressive.
The most spectacular stall we saw was next to an outdoor ice rink. It was a massive three-tiered windmill standing on top of an octagonal bar. Carved figures crowded each tier with glowing candles on the corners.  The people propping up the bar also had great views of the skaters hurtling across the ice.
The Manchester Christmas Market covers a larger area than many markets we have seen in Germany.  It also showcases produce from a more diverse range of countries.  Every inch of the Manchester Christmas Market is geared towards attracting customers and turning a profit.  German markets on the other hand have more decorations and occasional free entertainment.  Miniature train sets, giant advent calendars and a real flying Santa are just some of the free spectacles we've encountered in the traditional home of Christmas markets.  Despite this, the Manchester Christmas Market is still a fun day out and is well worth visiting.
The Windmill Bar
Manchester Christmas Market Travel Tips
It's cold so wrap up in lots of layers and be prepared for rain.
Manchester Christmas Market can be extremely crowded.  If you plan to meet anyone there, arrange a suitable place in advance.
The price of drinks includes an additional deposit for the cup. When you've finished, return your cup to get your deposit back, or keep it as a festive souvenir.
The Manchester Christmas Market runs throughout November and December.  For this year's dates, locations and opening times, check out Manchester City Council's website.