The tiny faces glared at us, wild eyes popping and teeth bared angrily. The message was clear: stay away. In the centre of the twisted mass was yet another face, much bigger than the rest. With eyebrows raised and mouth gaping wide it looked more surprised, staring at some unknown curiosity in the distance. We stepped forward, below a crumbling row of teeth, into the demon's mouth. This was actually the entrance to Goa Gajah, Bali's elephant cave.
Inside The Elephant Cave
Inside, Goa Gajah was darker than dark. The walls were black, a consequence of years of incense burning within the cave. At either end of the T-shaped tunnel, we found a small alcove. A statue of the elephant-headed god, Ganesha, sat in one of these alcoves. Three lingam filled the other. They represent Shiva, Vishnu and Brahma, the gods of the Hindu Trinity.
Goa Gajah was actually used as a quiet sanctuary for monks to meditate. And the monstrous creatures in the stonework weren't designed to terrify tourists. They are supposed to ward off evil spirits.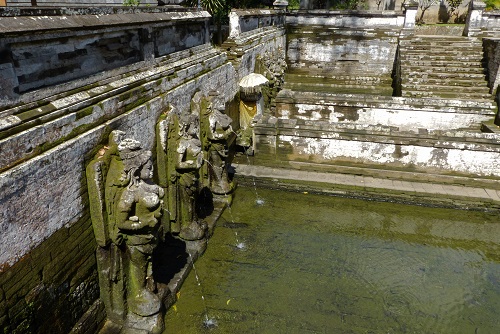 The Bathing Pool
The Bathing Pool At Goa Gajah
Back in daylight, we descended steps to the edge of a shallow bathing pool. Six scantily clad statues stood beside the pool, a constant stream of water trickling from vessels clutched beneath their bosoms. Along with a seventh statue, which was sadly destroyed in an earthquake, they represent the seven holy rivers of India.
Although built around a thousand years ago, earthquakes wreaked havoc at Goa Gajah and it was buried for many years.  The elephant cave was rediscovered in the 1920s and the bathing pools weren't excavated until the 1950s.  Nobody is really sure why this place is called Goa Gajah, meaning elephant cave.  While some think the giant face at the entrance looks like an elephant, others attribute the name to the statue of Ganesha inside the cave.
Bathing Pool Statues
Buddhism at Goa Gajah
Following more steps, we made our way past a lily pond into a dense thicket of trees. Giant boulders, green with algae, littered the ground. On closer inspection, we spotted the grooved spire of a broken stupa among the rocks. This had once been a carved relief on a cliff face, now smashed on the ground below.
There are two parts to the temple complex at Goa Gajah. While the elephant cave and bathing pools are Hindu, we were now in the Buddhist area. There was a temple here too, where offerings had been left for a tiny headless Buddha.
Lily Pond At Goa Gajah
Outside Goa Gajah, we ran the gauntlet of salespeople insisting we buy snacks, souvenirs and sarongs. Sarongs were a necessity to visit the temple, we were told. They didn't seem to care that we had already left the temple. They also neglected to mention that sarong hire was included in the entrance fee.
Moving On To Yeh Pulu
In contrast, Yeh Pulu, just a short walk away, was completely deserted. Admiring the long stretch of rock carvings, supposedly depicting daily life in the 14th century, we had the place to ourselves. The one exception was an elderly lady who scurried around sweeping and tidying the already spotless area. She placed offerings at shrines and even a few baskets of flower petals on the rock carvings themselves.
Offerings At Yeh Pulu
The Rock Carvings At Yeh Pulu
A hunter hurled his spear across the rock face. Following the frieze, we found the target, a rather large boar already engaged in mortal combat with another man. A third hunter had sneaked up behind the boar and appeared to be pulling its tail. We thought this was a poor idea, however, looking more closely, we realised he was actually attacking the boar with a knife.
The Boar Hunt
The boar had no chance and in the next scene we saw the carcass being carried home from the hunt. We also passed a man carrying water, a woman peering from a doorway and a selection of maidens and holy men.  At the end was a long empty recess in the rock, a hermitage once home to a holy man.
Clearly deciding we had seen enough, the caretaker started flicking water at us. It turned out there was a holy spring nearby and she was keen to give us a blessing. Of course we were expected to give a donation in return for her kindness.
Yeh Pulu
Despite its tiny size, we found the rock carvings at Yeh Pulu quite unique.  They depicted daily life rather than the usual legendary exploits of gods and monsters.  The peace and quiet that came with being the only people there was an added bonus.  While there is more to see at Goa Gajah, the area around the elephant cave and bathing pool was crowded.  Although very few people seemed to venture to the Buddhist side of the complex, which was surprisingly peaceful.  Being so close together, it's easy to visit both sites and decide which one you prefer.
Goa Gajah And Yeh Pulu Travel Tips
When visiting holy sites in Bali, always dress respectfully keeping everything from your shoulders to knees covered.
Free sarong hire is included in the entrance fee at Goa Gajah, however you can of course bring your own if you prefer.  There is no need to buy a sarong or sash outside the temple, despite what the stallholders will tell you.
Around Goa Gajah, there are plenty of stalls and even a convenience store in case you need to buy snacks or water.  Yeh Pulu is much quieter and we found just one tiny cafe with a very limited selection.  Bring some water with you.
Holy Man And Hero At Yeh Pulu
How To Get To Goa Gajah And Yeh Pulu
By Taxi: This is the easiest and most direct option but also the most expensive.
By Bemo: Take a public bemo from Ubud heading towards Gianyar.  The bemo will pass the front entrance to Goa Gajah.  However, to get to Yeh Pulu you'll have to get off on the main road and walk around 1 km.
On Foot: We walked from central Ubud.  It was around 5 km (1 hour) to Goa Gajah, along a busy road.  Yeh Pulu was a further 1.5 km (20 mins), mainly through a quiet residential area.