"What do you think of Thai diving so far?" Chris enquired as we waddled across the dive platform, dripping wet and keen to get out of our gear. "Hmm..." came my non-committal reply. As we de-kitted, we discussed the merits of our first dive in the Similan Islands.
Diving at Koh Tachai, the most northerly of the Similan Islands, had been OK. We saw healthy table corals, lionfish and a few sweetlips lurking around but nothing out of the ordinary. It had been the try-out dive though so we were keen to see what the second dive had to offer.
Lionfish
Batfish Rock: Similan Islands' Diving At Its Best
A few hours later, we leapt into the water over Batfish Rock, a chunky pinnacle just a short distance from Koh Tachai. As soon as our heads sank below the surface, we saw clouds of glassfish swirling around us. Schools of fusiliers darted this way and that and giant trevallies charged through them all causing chaos.
Reaching the bottom, we found ourselves surrounded by coral. Huge orange fans splayed out their branches while white whips snaked awkwardly, trying their hardest to ensnare us. Everything else was carpeted in a rainbow of soft coral and it looked just like a tropical diving advert.
Brown-marbled Grouper
An overly confident Clark's anemonefish swam up to greet us, leaving the safety of its anemone far behind as curiosity got the better of it.  Nearby, a brown-marbled grouper relaxed, mouth gaping wide as attendant cleaner wrasse wiggled through its gills and pecked at its tiny teeth. And oriental sweetlips hid under rocks, their bizarre flame-patterned young dancing across the sand in an eel-like fashion.
Like all nudibranch nerds, we carefully inspected the rocks looking for any telltale signs. We were rewarded with a wart slug. While not usually the most exciting find, this one was a striking orange and covered in fluffy white protrusions like balls of cotton wool. Even the scorpionfish in the Similan Islands seemed more interesting than usual, sitting grumpy faced on the rocks, well camouflaged in mottled green, white and gold.  Or perhaps that was just the nitrogen narcosis kicking in.
The fusiliers were still there too, effortlessly gliding through the current while we struggled to keep up. These were interspersed with Indian triggerfish, which seemed to be everywhere, their characteristically long fins flapping like sails.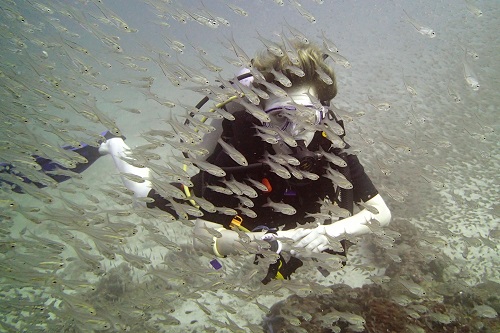 Plenty Of Fish
Our SMB Disaster
Later, while hanging around on our safety stop, we deployed our SMB. It shot towards the surface with satisfying speed. When we looked up however, we could see it was empty, flopping around in the waves like a limp sausage.  Disappointed, we pulled it back down to try again.
For the second time, we watched our SMB whizzing off. A cloud of bubbles farted out of it and it twisted and folded as before. It turns out there was a rather large hole in the end.  Regretting leaving our own SMBs at home, we gave up and headed back to the boat.
Coral
As we were clambering aboard, I started to notice the hunger pangs.  It was definitely lunchtime.  Tucking into some well needed curry, we returned to our discussion about Thai diving.  Needless to say, in just 50 minutes our opinions had changed drastically.
Diving In The Similan Islands: Our Verdict
The diving in the Similan Islands was variable but we particularly enjoyed the dives we did on Batfish Rock.  The corals were beautiful and the fish life was good.  On later dives there we also saw tuna, barracuda and batfish.  The viz was 20m+.  Although even the boat crew, who had been diving these sites for years, were raving that they had never seen it so good.  Perhaps we were just lucky.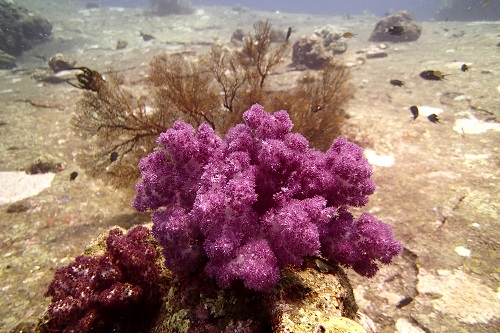 Soft Coral
How To Dive The Similan Islands
From Khao Lak, it's easy to dive the Similan Islands as a day trip.  However, it's a very long boat journey and, as you'll only get to the nearest of the Similan Islands, you'll miss out on some of the better dive sites further out.
If you have more time, join a liveaboard.  It's more relaxed and you'll fit in more diving.  There are several liveaboards that run trips from Phuket or Khao Lak.  Try to find an itinerary that includes Richelieu Rock, Thailand's best dive site.  We did a 3-day liveaboard with Sea Dragon.
Most of the dives we did in the Similan Islands were around 25-30 metres deep.  Make sure you are qualified and experienced enough for this.